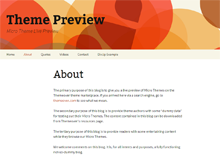 Blank Twenty 13 is a Blank Slate Micro Theme
for twentythirteen – which is free to download!
Author: Themeover
Requires: Microthemer
Theme Description
Blank Twenty Thirteen is a Theme Pack for customizing the default WordPress theme "Twenty Thirteen", by Automattic. Automattic describe Twenty Thirteen as "featuring a full range of post formats, each displayed beautifully in their own unique way. Design details abound, starting with a vibrant color scheme and matching header images, beautiful typography and icons, and a flexible layout that looks great on any device, big or small."
Theme Tags
blank twenty 13 theme pack, customise twenty thirteen, wordpress theme, microthemer
Tested in Modern Browsers
Blank Twenty 13 has been tested in the following browsers:

Theme Files
config.json
license.txt
meta.txt
readme.txt
screenshot.png
Instructions in readme.txt
Contents
Changelog
This is version 1.0. There have been no changes.