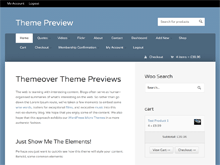 Blank Wootique is a Theme Pack
for Wootique – which is free to download!
Author: Themeover
Requires: Microthemer
Theme Description
This Theme Pack allows Microthemer users to customize the appearance of the popular Wootique Theme by WooThemes. Wootique is a free WordPress Theme designed to be used in conjunction with WooCommerce – the free ecommerce plugin. Because most people who use this Theme Pack will also want to make use of our "Blank WooCommerce" plugin skin, it comes pre-integrated. So you don't need merge "Blank WooCommerce" with this as the WooCommerce sections are already there for you. Please see the readme.txt file that ships with this Micro Theme for notes about the need to enable !important CSS declarations when customizing Themes or Plugins by WooThemes..
Theme Tags
blank wootique micro theme, customise wootique 1.2.1, wordpress theme, wordpress themes 3.0, micro themes, microthemer, woocommerce, woo themes
Tested in Modern Browsers
Blank Wootique has been tested in the following browsers:

Theme Files
config.json
license.txt
meta.txt
readme.txt
screenshot.gif
Instructions in readme.txt
Contents
Overriding CSS Styles Utilizing The !important Declaration
Change Fonts with Wootique's Theme Options
1. Overriding CSS Styles Utilizing The !important Declaration
Themes by WooThemes tend to make use of the "!important" CSS declaration. For those of you that haven't come across the !important declaration, it can be appended to a CSS property value to make the style rule carry more priority that usual (e.g. to ensure that a style rule of "color:red" overrides a style rule of "color:blue"). Normally the CSS selector part of a CSS style rule determines this priority. The more specific a CSS selector, the more priority the style rule has. The !important rule disrupts this convention by trumping all other rules. The only way to override a style with !important is to add your own style rule with !important.
Fortunately, Microthemer makes it very easy to add !important to all your style rules so that you won't bump into problems when trying to override certain styles defined in Wootique's style.css. Just go to Microthemer's "Preferences" page and enable the "Auto-add !important to CSS Styles" option. It's much much better if you do this at the very start. It you enable !important at a later date you may find that your previously entered (and forgotten) styles override Wootique's default styles in undesirable ways.
2. Change Fonts with Wootique's Theme Options
Wootique has a great feature that enables you to embed Google Fonts in your Theme. Microthemer won't be able to override fonts defined in such a way (even with the Auto-add !important to CSS Styles" option enabled) so please use Wootique's Theme Options to change fonts.
Changelog
This is version 1.0. There have been no changes.