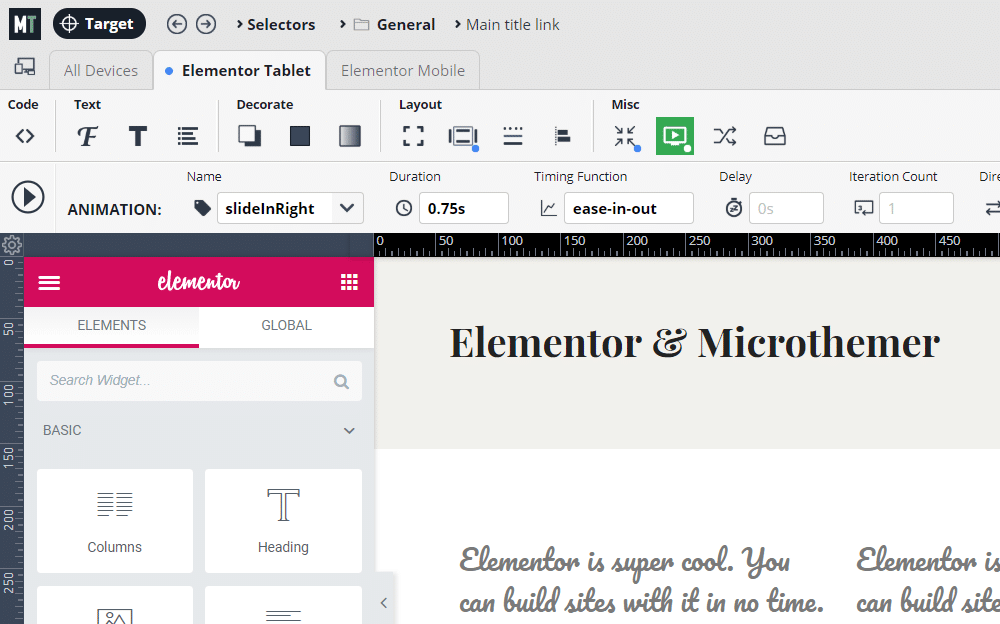 We're excited to announce a long anticipated feature – Microthemer and Elementor can now be used at the same time, from a single browser tab. Simply enable Elementor inside Microthemer by flipping the Elementor switch in Microthemer's View menu. This switch will only be present if Elementor is installed and activated of course.
Microthemer gives Elementor users additional styling options, more freedom when designing responsively, and more granular control over which elements can be styled. These 3 benefits are demonstrated in the following video, along with some general tips on working with Microthemer.
Using Microthemer in combination with Elementor (15 mins)
In the video:
How to style subsections of an Elementor module that aren't editable via Elementor
How to style multiple Elementor modules in one go
How to animate parts of an Elementor module with inView or inView once.
How Microthemer syncs up with and extends Elementor's responsive features
Microthemer's editor for hand-coding CSS and SASS code
How Microthemer works – writing styles to a single external stylesheet without modifying theme or builder files
Applying global vs page-specific styles
Best practice – keeping selectors organised
Keeping your Microthemer edits even after completely uninstalling Microthemer
Feedback
Are you an Elementor user? Please share any feedback on the Elementor integration via our forum.
Thanks!