The WordPress CSS Editor
Customize your WordPress theme with point and click editing. Design responsive grids, integrate with page builders, and get great support. WordPress CSS editing for everyone!
Try the live demo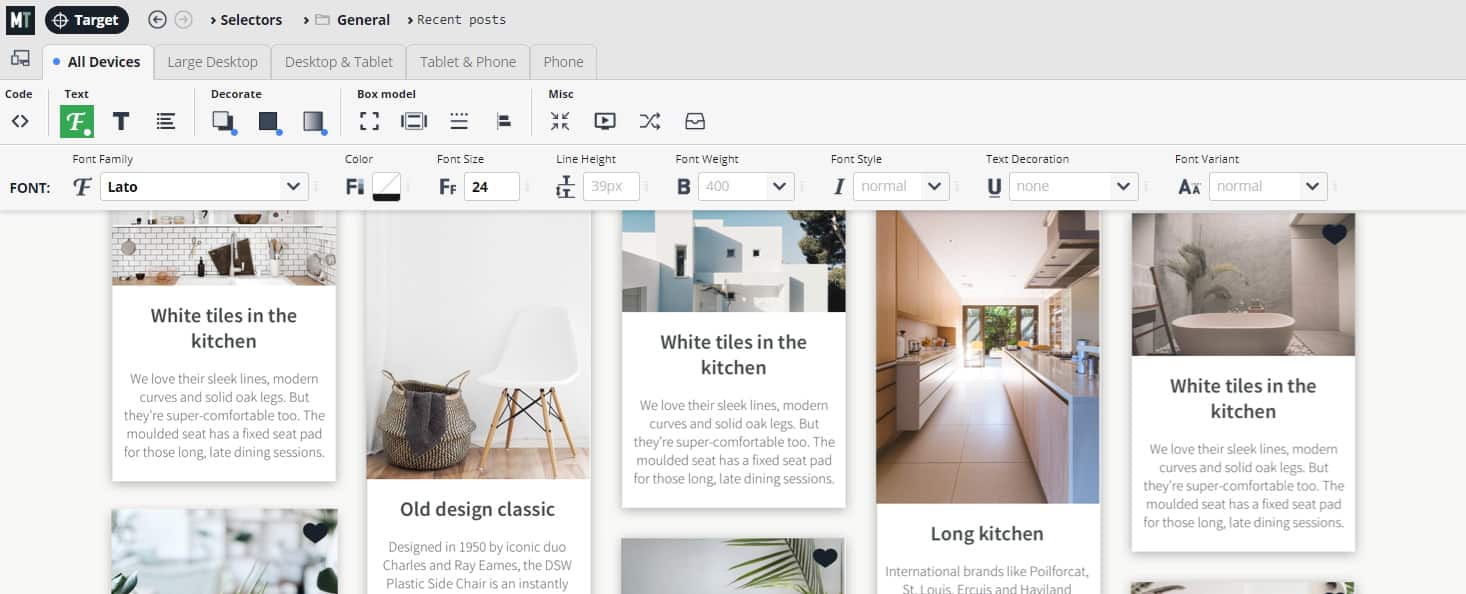 Watch video (2 mins)
Drag and drop CSS grid controls
Wth the release of Microthemer 6, using CSS grid to create beautiful web layouts is as simple as drag and drop. This feature brings the power of CSS grid to the masses. And if you like to code, you can switch back and forth between the code and the visual controls seamlessly. Microthemer is the perfect tool for learning CSS grid with stabilisers.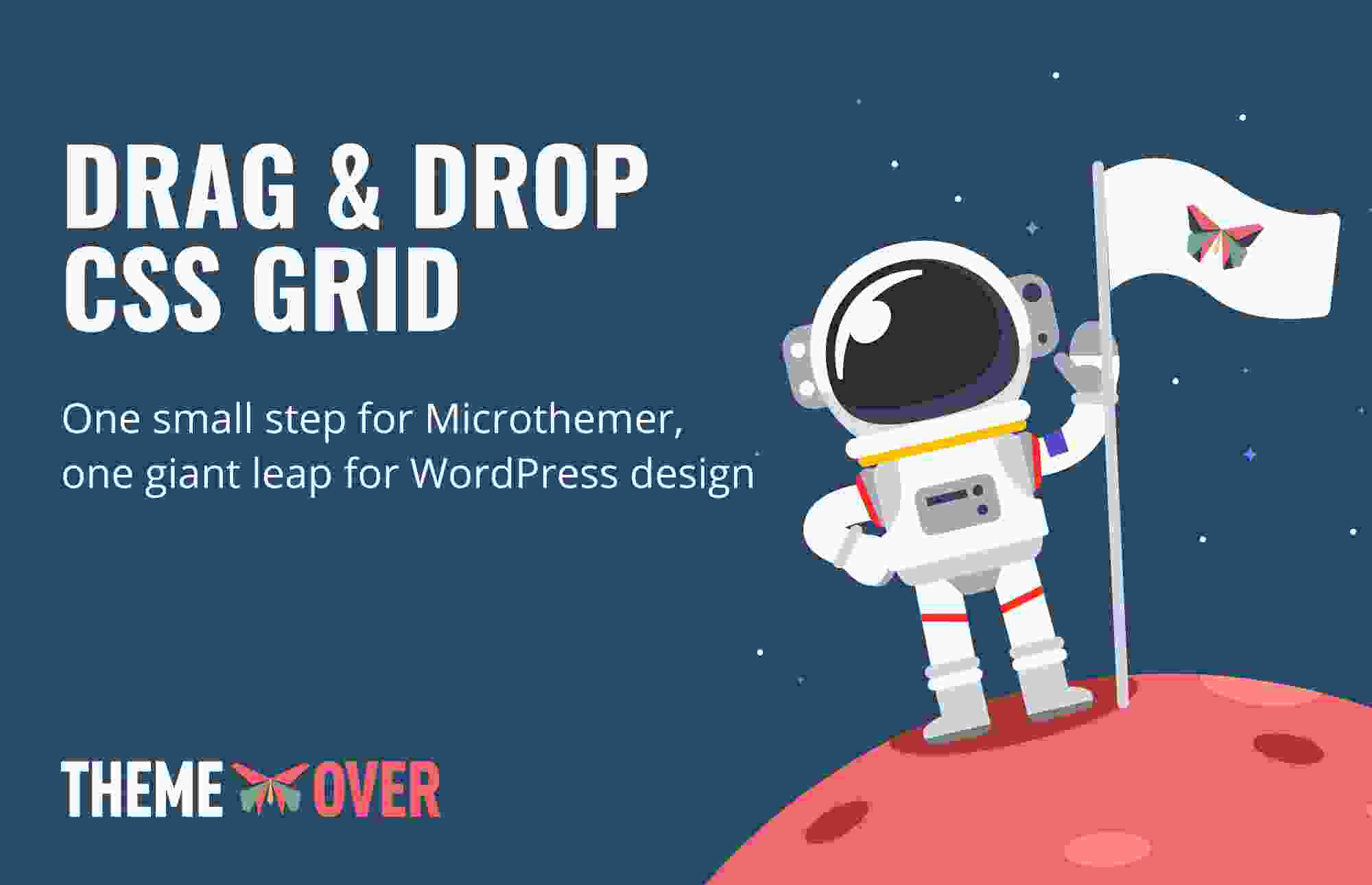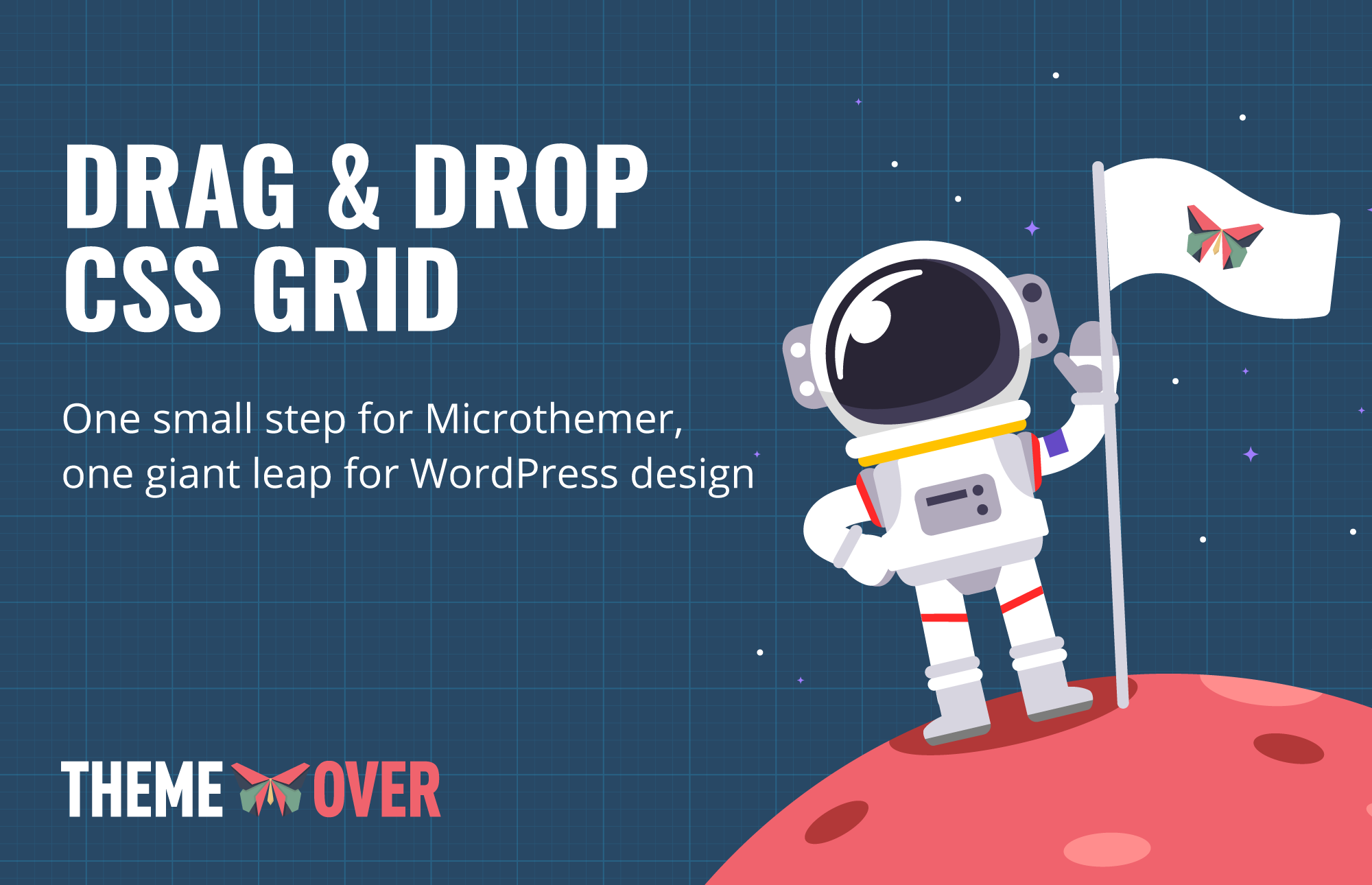 Responsive design for mobile and tablets
Designing for different screen sizes is easy with Microthemer. Our site preview automatically changes size to match any screen-specific styles you add. You can also drag the top ruler to set the site preview to custom widths. Default media query tabs are provided to get you started but are entirely customizable.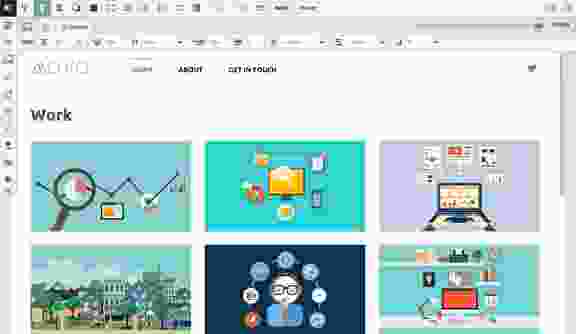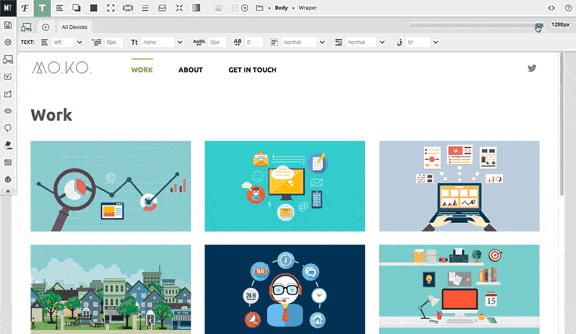 Huge selection of CSS styling options
Enjoy an extensive range of 100+ CSS styling options. Choose from exciting CSS3 styles like gradients, rounded corners, box-shadow, flexbox, animation and transitions to the web design essentials like typography, position, and background images.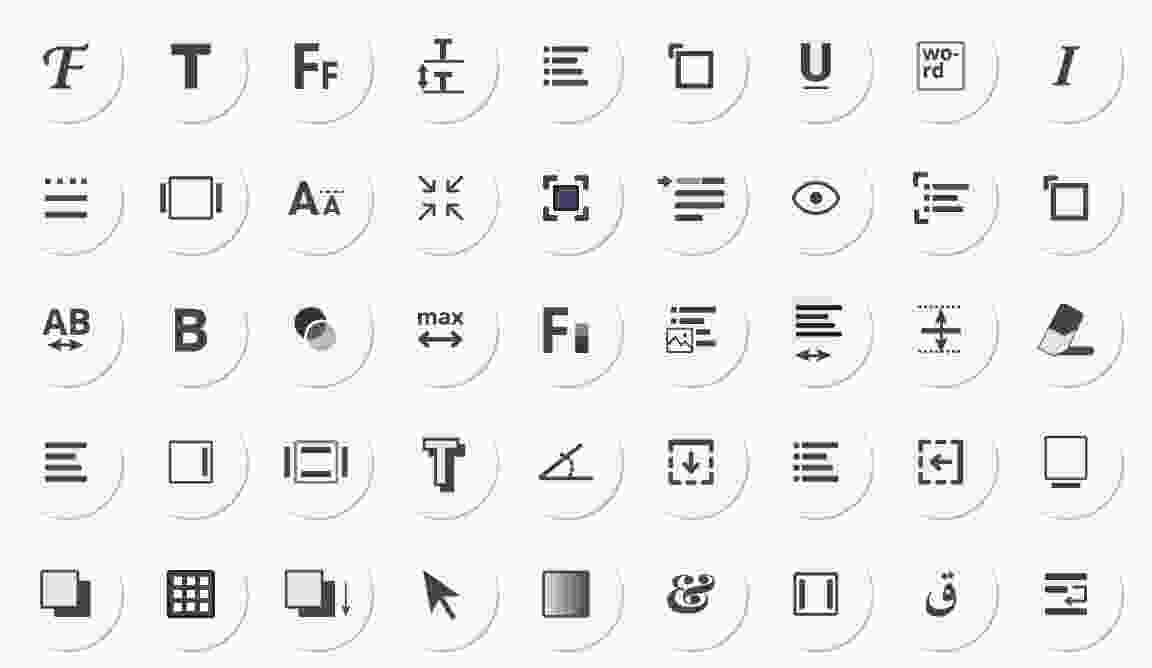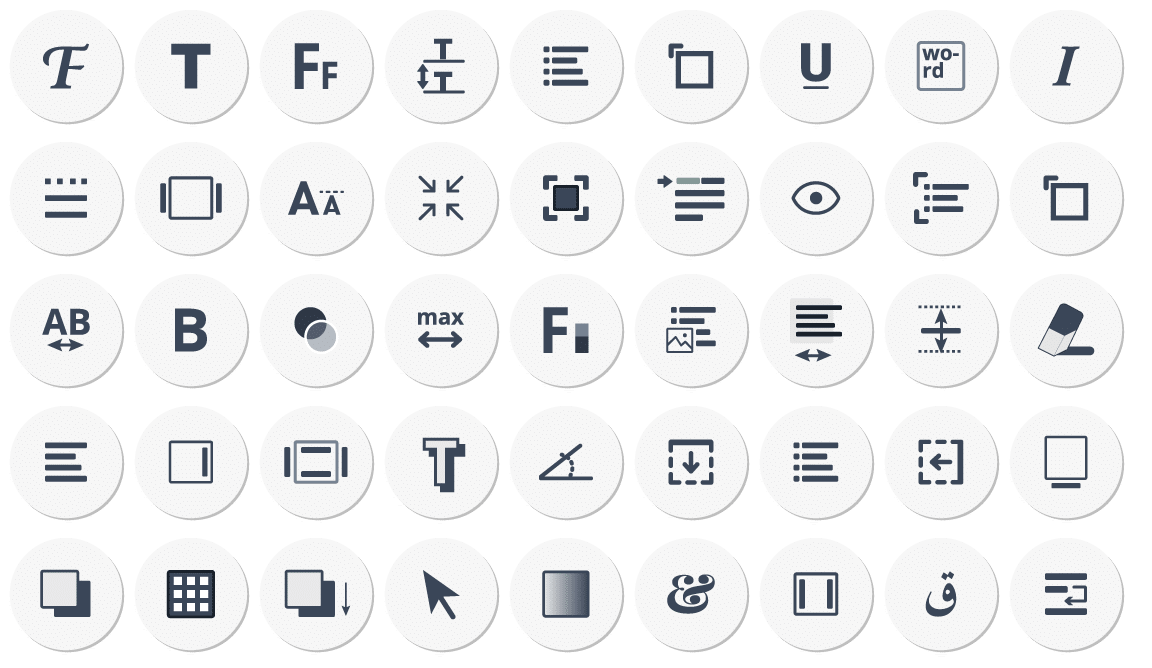 Quick and easy access to Google fonts
Save time and effort by visually browsing Google fonts without leaving the Microthemer app. You can then insert the font you want with a single click. This dramatically simplifies experimenting with different Google fonts. Watch video demo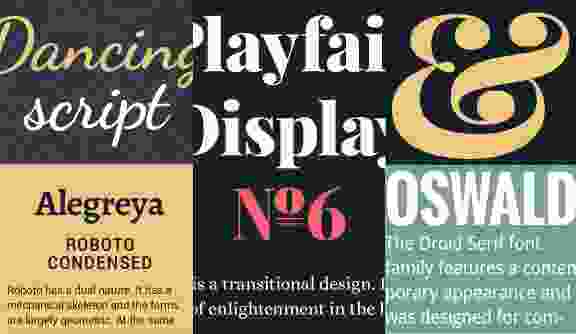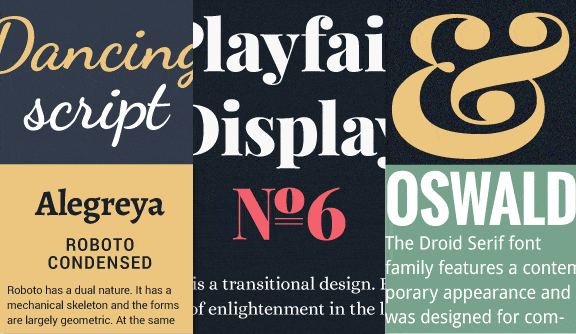 Live style editing preview
Using Microthemer enables you to see your style edits appear on screen as you apply them. This immediate feedback creates a more enjoyable and efficient WordPress theme editing experience. If you are a fan of the custom code editor with CSS/SASS syntax highlighting, you will love being able to see the changes live on screen without having to switch your viewport or refresh the browser.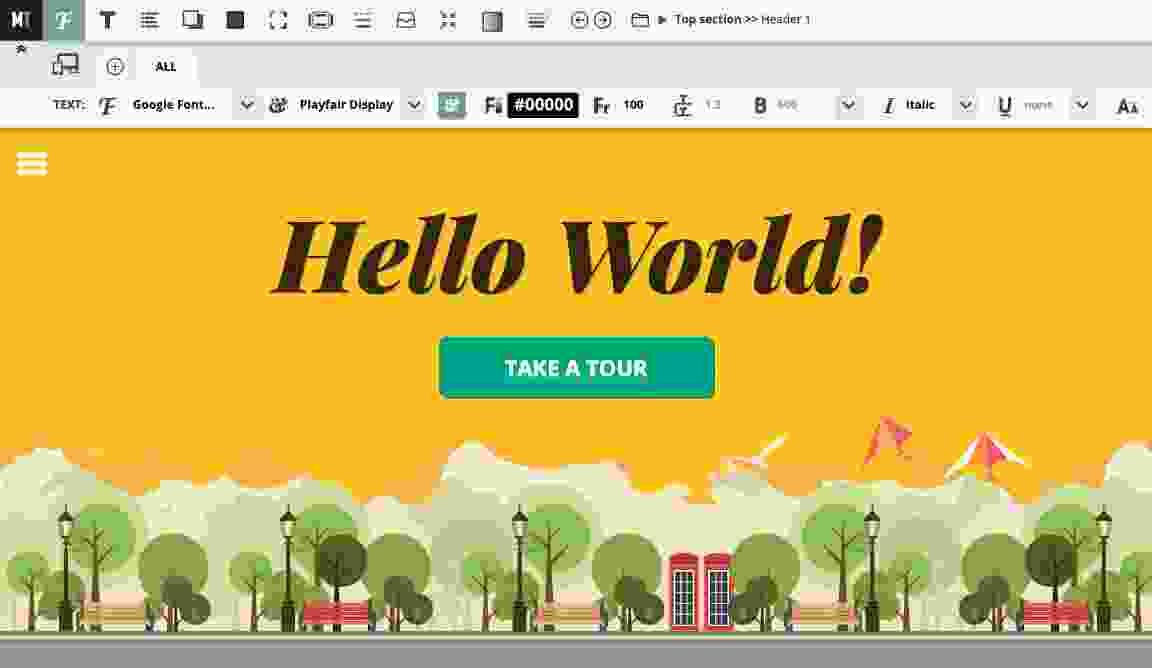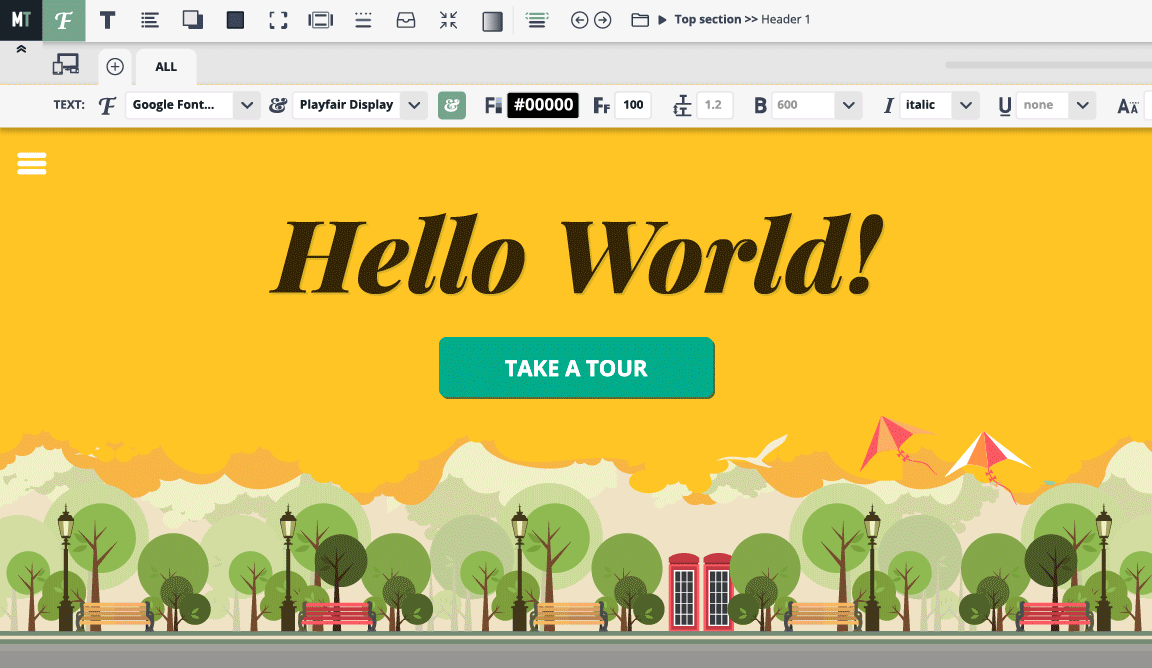 Customize any theme or plugin
With Microthemer's 'point and click to edit' feature you can restyle absolutely any WordPress theme or plugin. No pre-configuration is required. Microthemer is already compatible with the next super-star WordPress theme or plugin. Plus, you are not limited to styling only post or page content - if you can see it on the page, you can style it. Really!?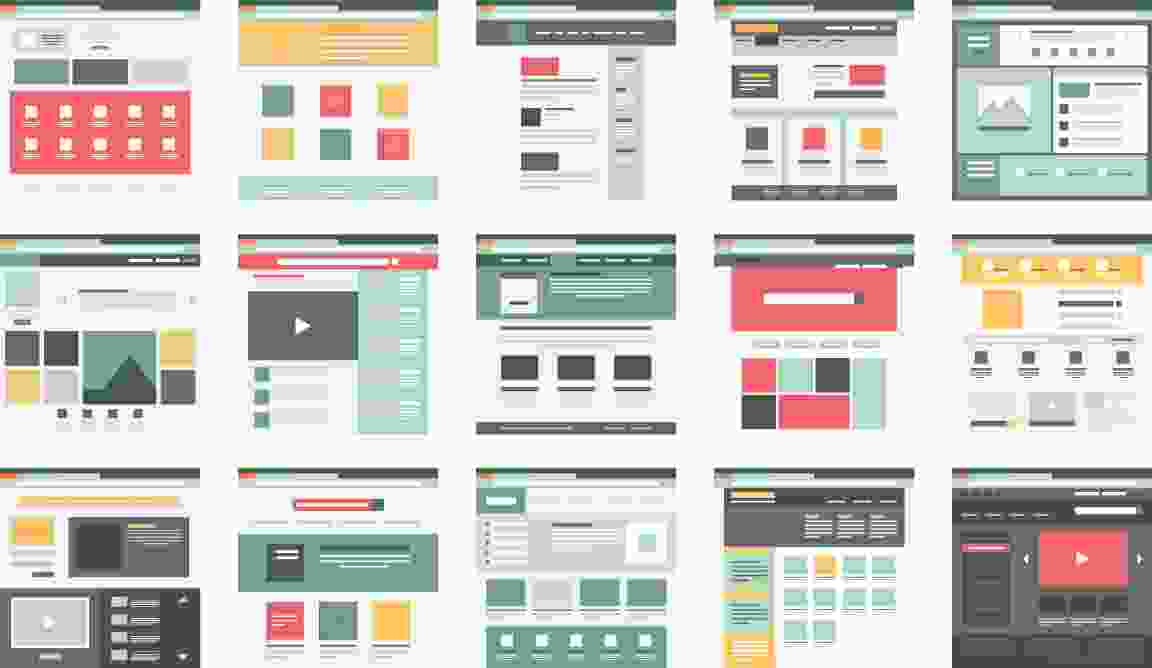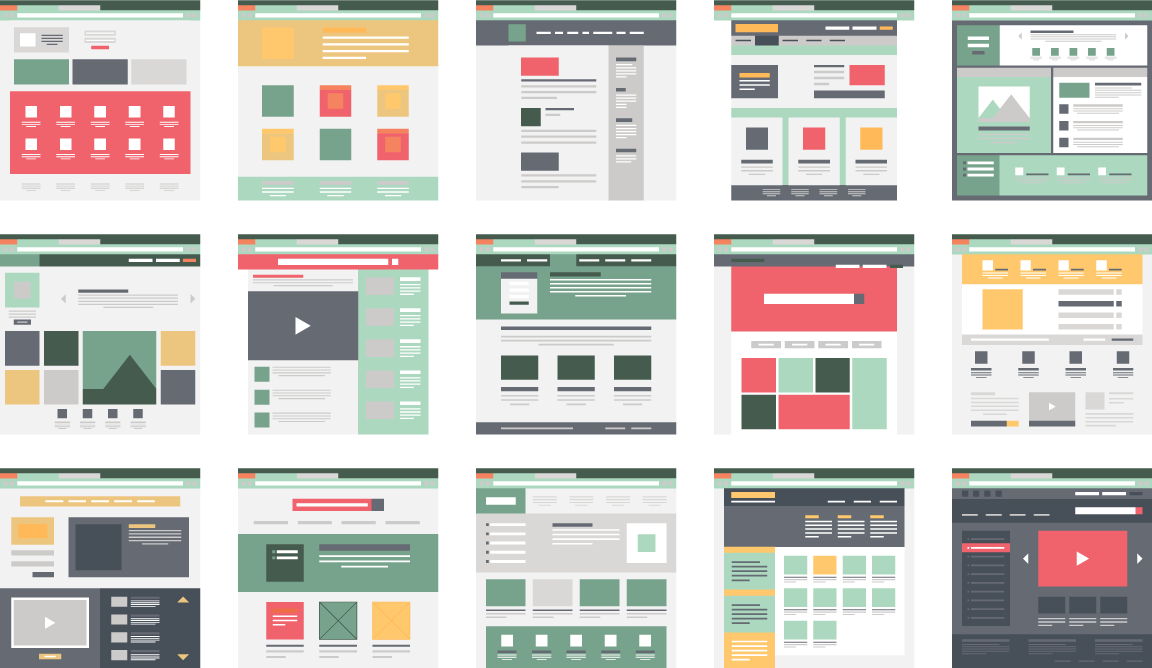 Draft mode
Try out a new WordPress design on your live site without worrying about site visitors seeing your work in progress. Draft mode changes will only be visible to you. Publish your style changes only when you are 100% happy with them. This is great if you're still testing out the various styling options. Draft mode provides a safe environment for applying bold new changes to your site, worry free.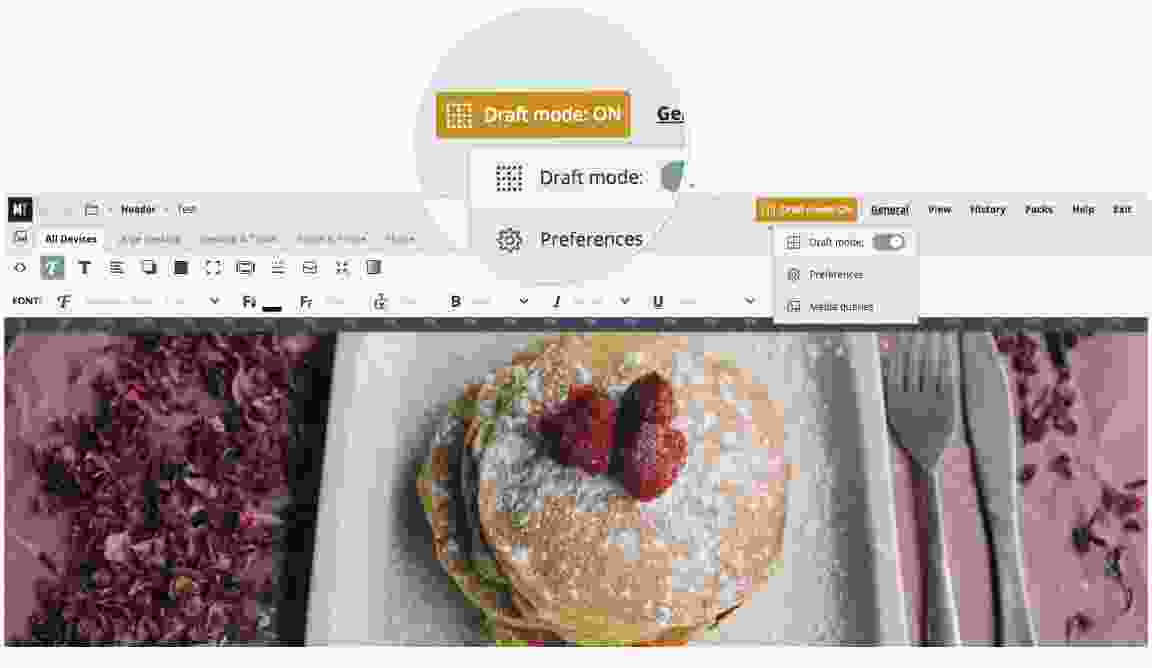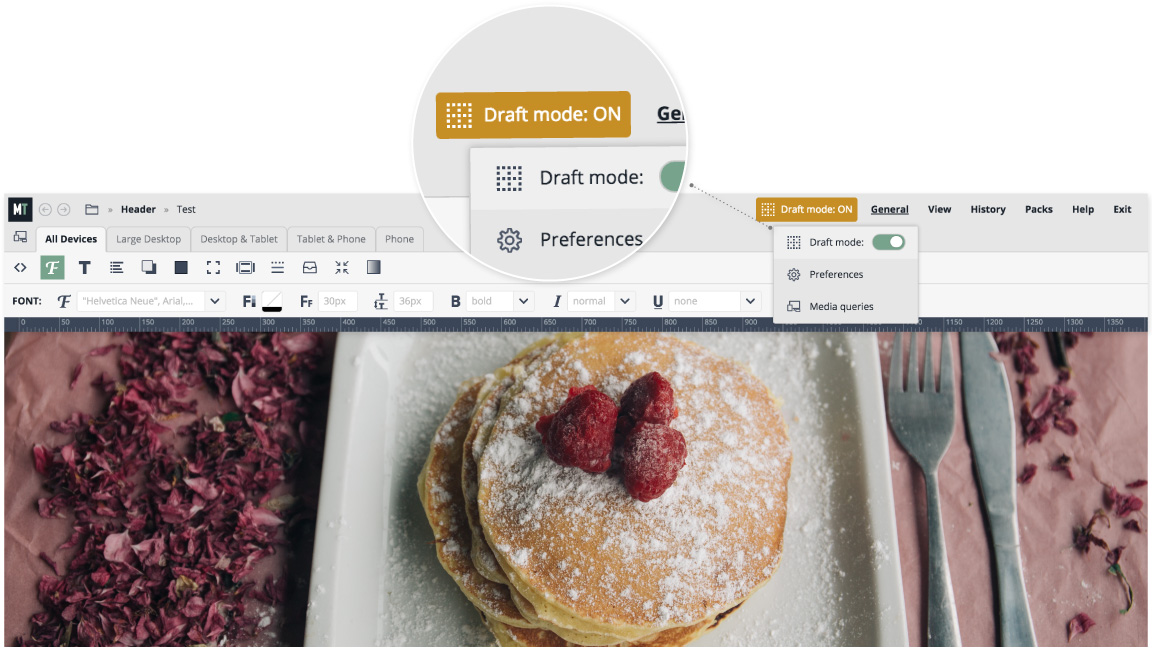 Help and support whenever needed
We understand some customers will need a little help and advice on making the adjustments they require with Microthemer. This is nothing to feel shy about. We want to you get the best possible results out of Microthemer and have fun using it so we're always happy to help. Please head over to our friendly and supportive forum and get in touch if you are stuck with anything.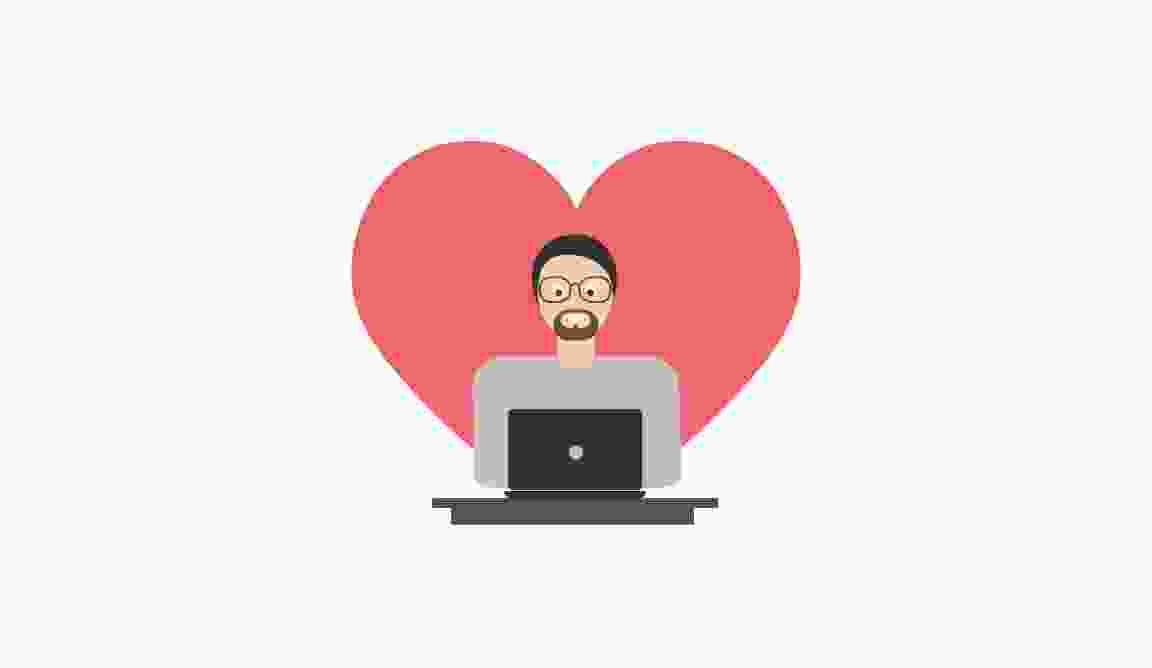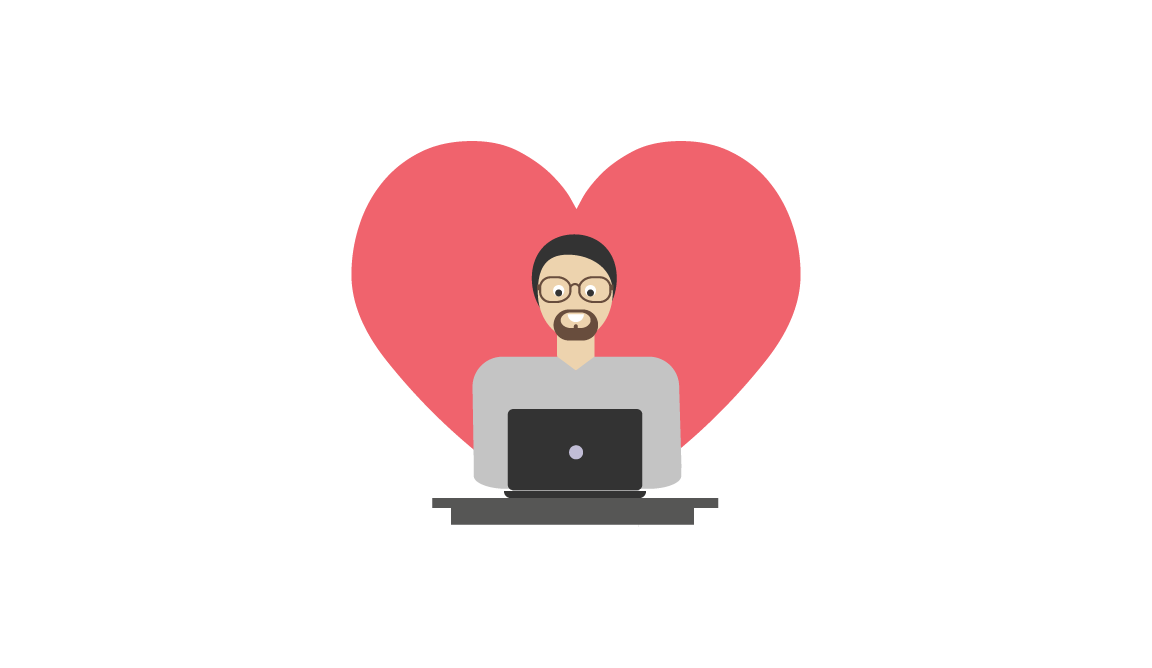 Use as a JavaScript Editor
Microthemer also supports custom JavaScript code, meaning you can use it as a complete frontend WordPress editor. Type some JavaScript code and hit the Control+S keyboard shortcut. Microthemer will save your JavaScript to a file and automatically update the preview. It will also detect and report any errors in your code so you don't have to fire up the browser console if things go wrong.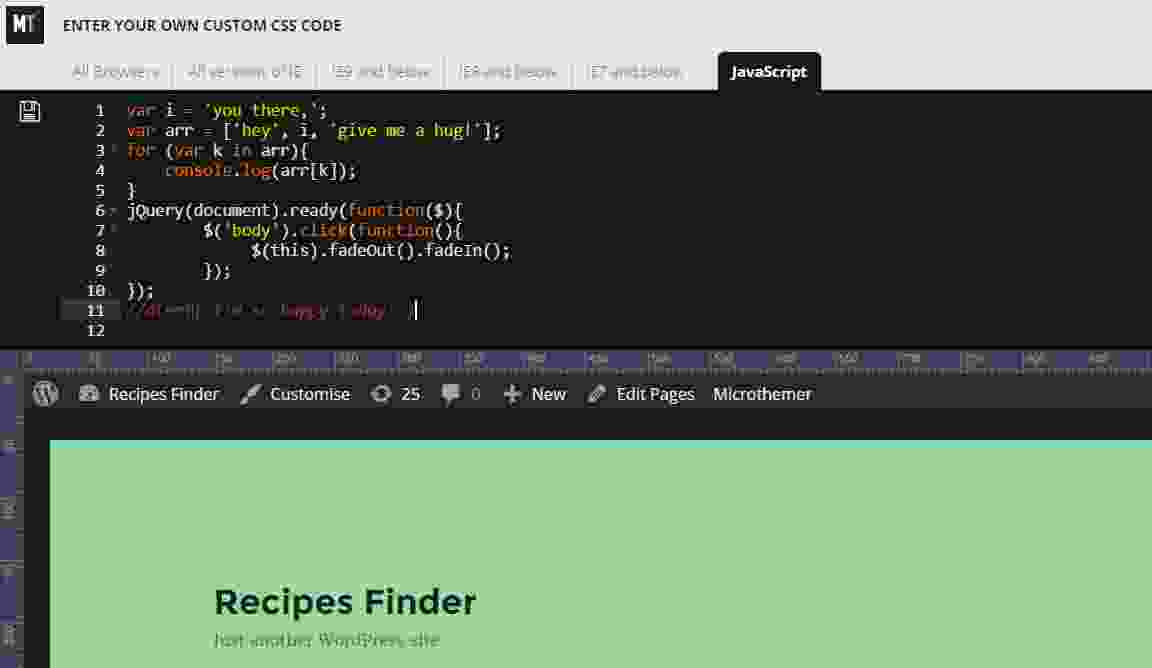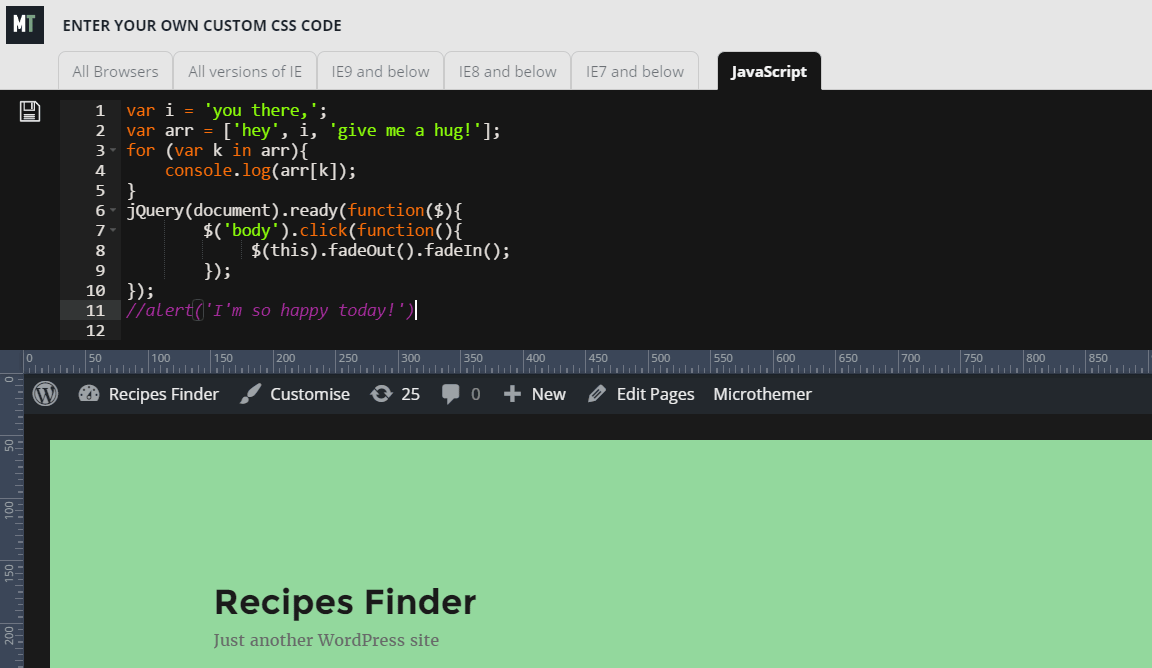 Integrates with key page builders
Microthemer integrates seamlessly with page builders including Elementor and Beaver Builder, among others. While it shouldn't be confused with a drag and drop page builder, Microthemer's WordPress theme design functions can be used alongside these key page builders on one screen – a winning combination for user friendly WordPress development and design.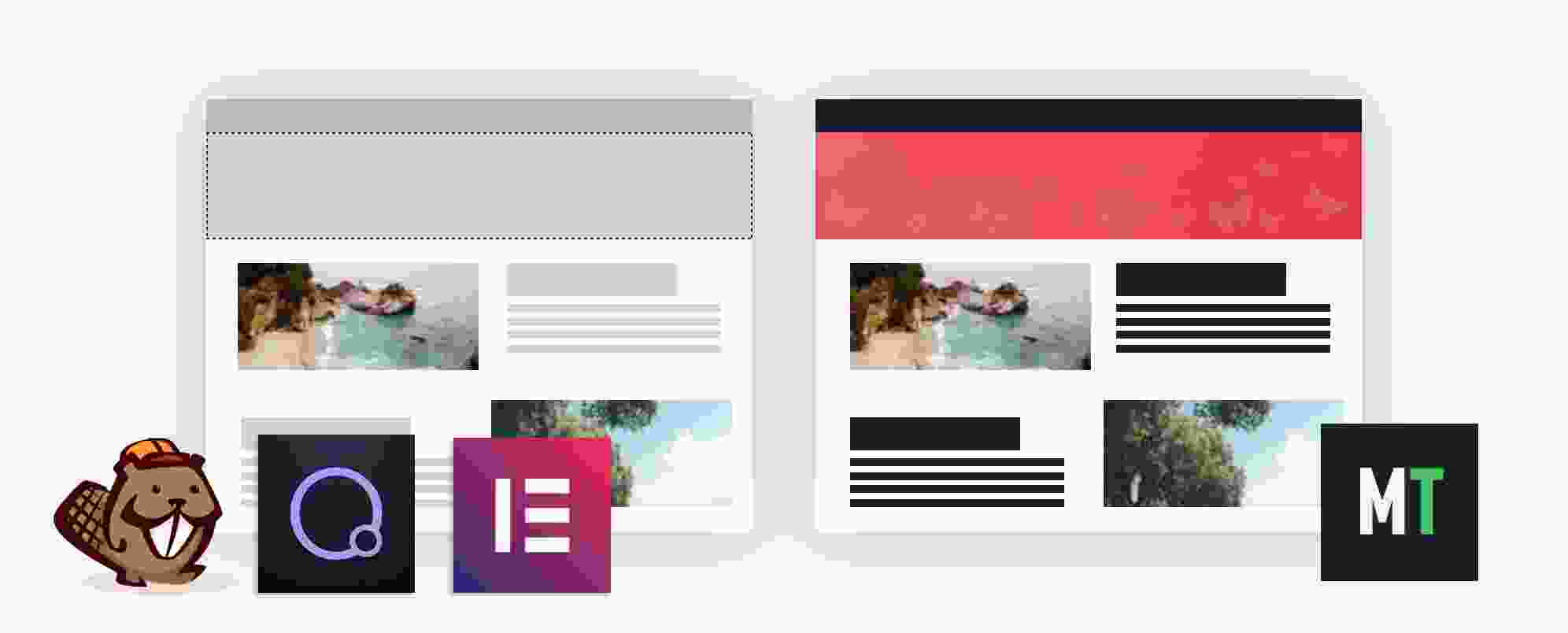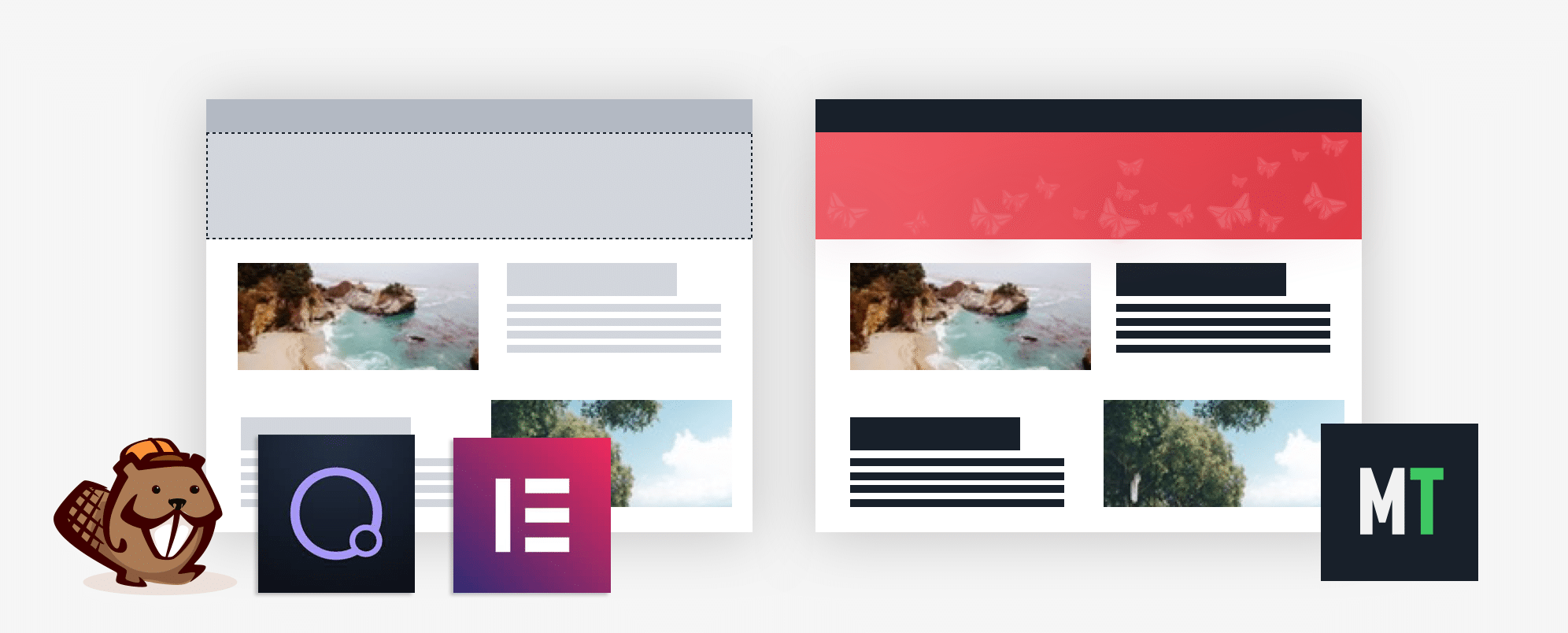 WordPress design for all levels
Microthemer is a WordPress customizer for all levels, from web design novices to experienced developers. If you are not a coder our 10-minute training video will provide the basics you need to customize elements such as colour, background images, Google fonts, text styling, gradients, box-shadow and rounded corners. Or you can choose to take full control of your site layout on desktop, tablet and mobile after reading our more detailed CSS layout and responsive design tutorial. Anything else, just ask!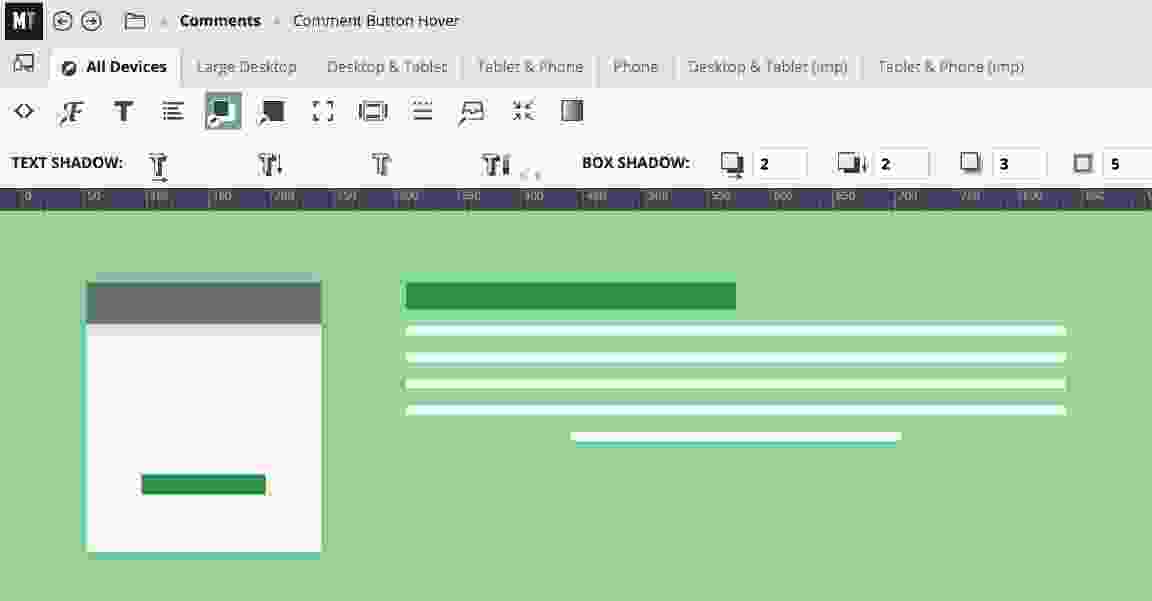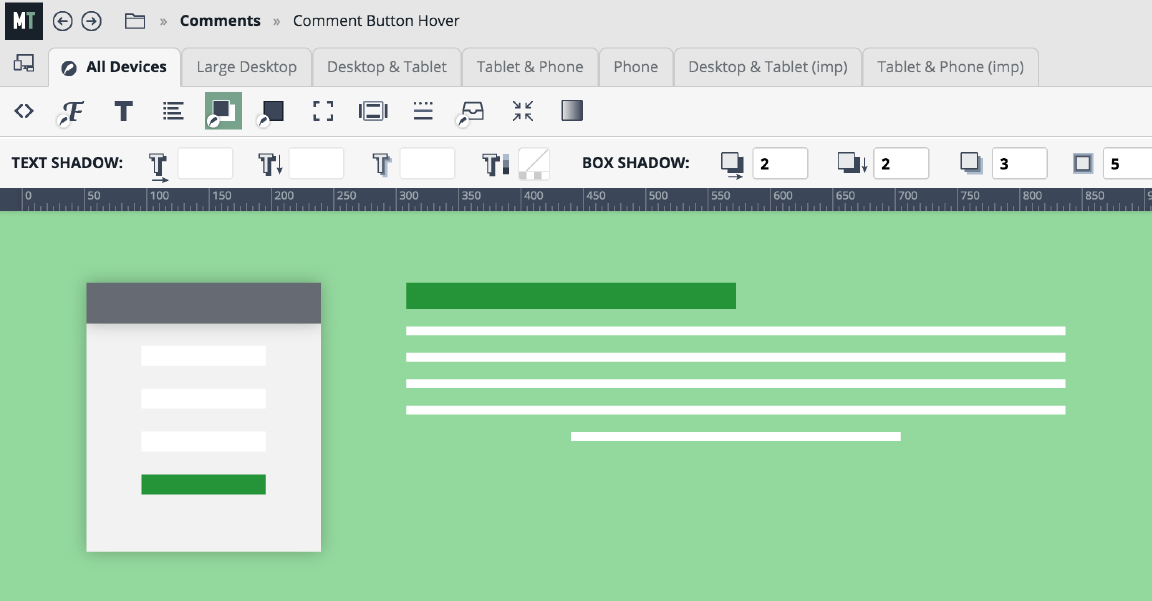 Supports developers to work faster
With Microthemer, developers can work faster and more visually by coding in CSS, SCSS, and JavaScript just above the site preview which will automatically update. There is no need to switch between applications or compulsively refresh the page. Plus, no need to repeat selectors in media queries; selectors are defined in one place to keep things dry.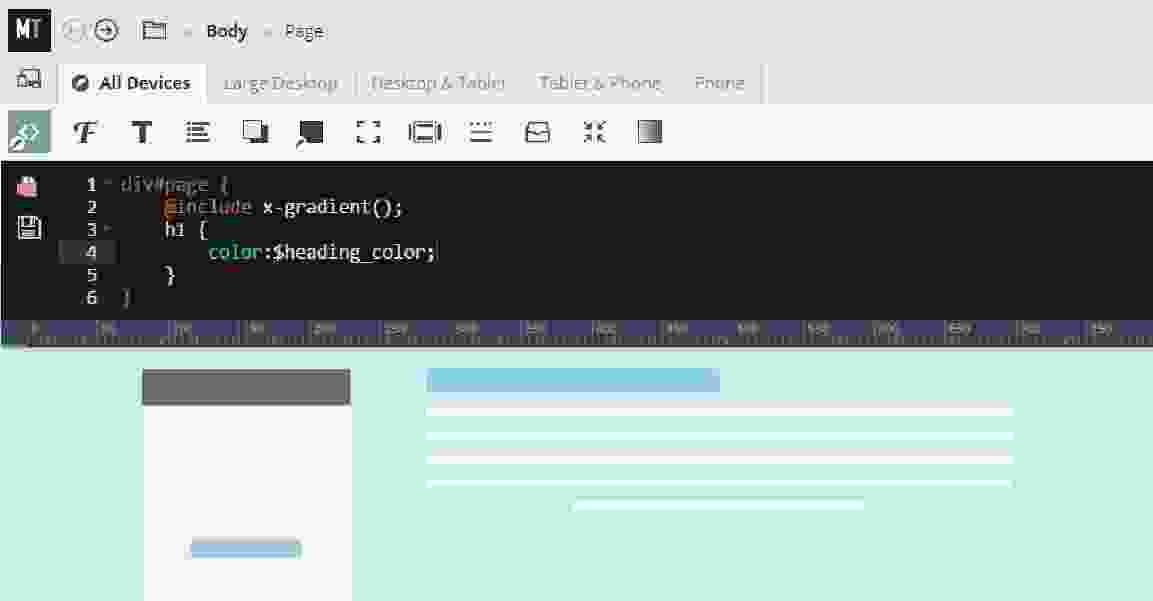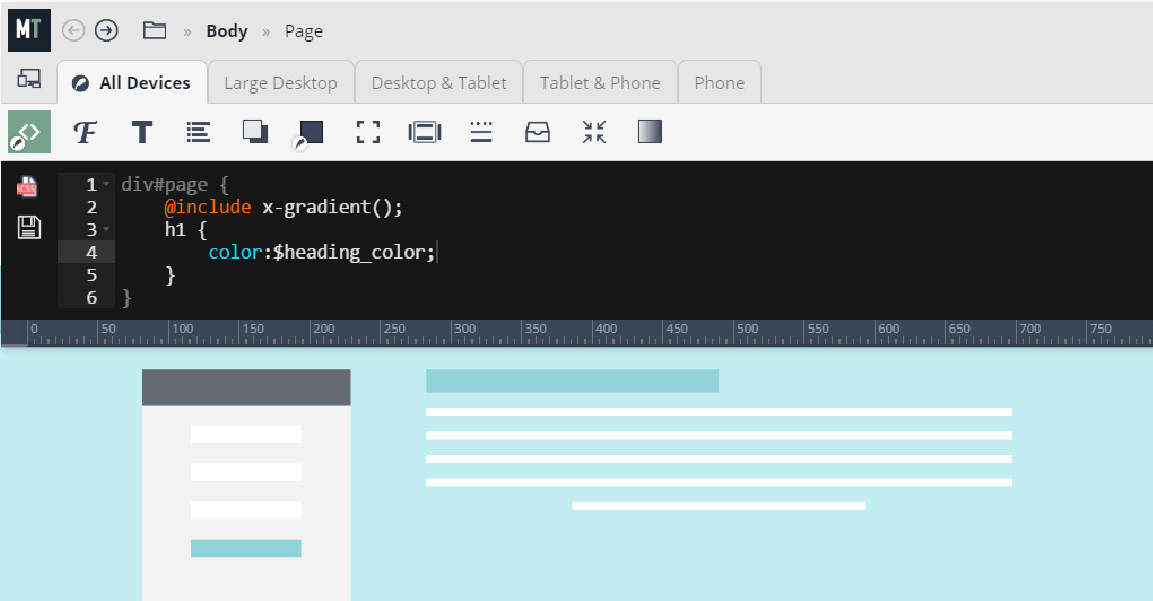 More Features
Inspect and edit in one place with computed CSS reporting.

Microthemer reveals your theme's default styling so you can anchor style edits to this. For example, if a heading has a bottom margin of 12px you'll know that setting this to 24px will double that space.

Clean, optimized code that won't slow your site down

Surprisingly light-weight for such a powerful plugin. Unlike many other plugins, 95% of Microthemer's code does not run outside of the Microthemer interface so it won't slow down your site.

Export your designs between domains

You can export your design changes to a 'Design pack' at any time. This is useful for backing up your work, trying out alternative designs and transporting customisations over to another WordPress site.

Autosave and undo are there to help if you make a mistake

Microthemer includes a revision restore feature. The past 50 actions that alter your workspace are remembered. So, if you make a few mistakes you can easily roll back to a previous point.
Customer testimonials
"Sebastian, you are such a great developer and support person – in one. Such responsiveness and support! Can feel your dedication, passion and willingness to help in everything you write – it just shines through. Feel lucky and honoured to be a customer of yours. Best choice ever!"
Anders Nielson
"Hi all, I just wanted to take a moment to thank Sebastian Webb for making CSS editing in WordPress such a great experience. I can write CSS and I've used several CSS editing plugins in the past, but, Microthemer, by Themeover has helped make my workflow more efficient than ever before. I used it on my newly deployed site, www.monjesmedia.com and will surely include it in my WP dev stack moving forward."
Adrian Monjes
"Incredible Time Saver – Thank You !!!. I'm on Day 1 of using Microthemer and in the first hour you've already saved me a day of work doing the mental gymnastics of responsive web design. Having a tab for each break point is genius, and the depiction at each screen width is so much more accurate than the browser-based dev tools I've struggled with. And, of course, the code view is priceless. I can already see that this was worth every penny. THANK YOU FOR MAKING THIS PLUGIN!!!"
Gunther Kastenholz
"Blown away by FlexBox support – I was just experimenting with Microthemer to change the layout of a page and discovered flexbox and your video tutorial. Amazing! Prevented me from having to make a new page template to make a list of events into two columns. Very Cool! Thanks for such a great product!"
Scott
"We are currently working to upgrade our website and, as non-css experts, seem to be spending forever searching for the css code we need and doing many many iterative trial and error changes. I've been searching for a way to make this quicker and have read so many glowing recommendations for Microthemer. I've tried the Lite plugin and was blown away by how amazing it was! I had no idea that a plugin could make css changes so quickly, intuitively and reliably. Huge congratulations on developing such a fantastic system."
Matt Stockdale
Microthemer Lifetime & Monthly Plans
Yearly plans are also available.
Standard

(yearly)

Cancel / upgrade any time

Developer

(yearly)

Cancel / upgrade any time

Standard

(lifetime)

Cancel / upgrade any time

Amazing value

Developer

(lifetime)

Developer

(monthly)

$

8.99

1st month

$

0

1st month

Cancel / upgrade any time


Subscription FAQs
Microthemer FAQs